How We Give Back
In addition to our focus on mission-driven clients, we're especially passionate about causes related to children and the environment. That's why our CEO, Lynn Miller, was included in "2009's Top 12 Stories of Everyday women doing extraordinary things for the planet" by See Jane Do, a multimedia program funded by the Corporation for Public Broadcasting.
We support:
Bethesda Green
Bethesda Green is a nonprofit that brings business, government, and community together through programs and services to promote a healthy economy and sustainable living practices in order to reduce our collective impact on the environment. Our founder was part of the initial volunteer team when Bethesda Green first started, participated in their website launch, and was part of the Green Business Incubator. 4GreenPs is still a proud part of Bethesda Green as a Small Business in Residence, having graduated from the incubation stage.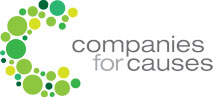 Companies for Causes
Companies for Causes is a group of CEOs of closely held businesses in the Washington, D.C. area passionate about philanthropic efforts that make a strategic, positive impact in local communities. 4GreenPs' CEO is a partner at Companies for Causes and actively participates in their projects to create long-lasting positive change.