In just four days, we've been surprised by an earthquake and humbled by the fury of Hurricane Irene. After being stranded in DC following the quake, I forgot how to text tweet - leaving me incommunicado. And while monitoring Twitter during Hurricane Irene, I realized that more widespread adoption of just a few Twitter best practices could speed the flow of information during a crisis.
Based on those experiences, I offer a few tips for getting the most out of Twitter during a crisis. If you have tips to share, please add them in the comments section.
Know Your 40404: Learn (or Re-Learn) How to Tweet via Text
When emergencies hit, cell phone and landline networks are often overloaded. WiFi and mobile web can be hard to access, just like voice services. Text messages over Twitter are more reliable. But most people now access Twitter solely via its many web-based interfaces. If you had to send a text Tweet...NOW, could you?
Here's how to text tweet from the U.S.:
Send a text message with START to 40404.
Twitter will respond with your username.
Send your username in response.
When asked for your password, respond, being mindful of CaSe SensiTiVIty.
When asked to send OK, do so.
To receive tweets, turn on mobile updates for those tweets you wish to see.
Now your tweets should post directly from your phone to your twitter account, simply by typing a text message and sending to 40404.
Don't have a twitter account? Read these instructions on how to set up a Twitter account and access via text messaging.
2. Know Your ReTweet Length! Make It Easy to RT
If you're tweeting important information, you obviously want to reach a lot of people. Crafting easy-to-retweet messages is the best way to ensure that your message gets ReTweeted often.
Do you know your RT length? It's the 140 character Twitter limit minus the number of characters in your twitter handle. (RT @YourTwitterHandle).
If you send tweets that are within the limits of your RT length, it is easy to add: RT @YourTwitterHandle to your tweet, without needing to spend precious seconds or even minutes editing the message to fit Twitter's 140 character limit.
Example: My personal Twitter account is @OrganicMania @OrganicMania is 13 characters long. I add 2 for RT and a 1 character space-- a total of 16 characters. I subtract 16 from 140 to get 124, the maximum length for an easily ReTweetable tweet.
3. Engage with National Non-Profits and Others With Broad Reach
It's tempting to think local-only when responding to a local emergency. But national organizations can play a vital role in the communications outreach effort as well. National non-profits and state-wide agencies may have personnel resources available to help augment the social media outreach of the affected communities, and are likely to have their own strong networks of followers as well.
Example:
1. A tweet went out about the opening of a pet-friendly shelter with popular local Delaware hashtags.
2. Tweet sent to National Humane Society of the US Twitter account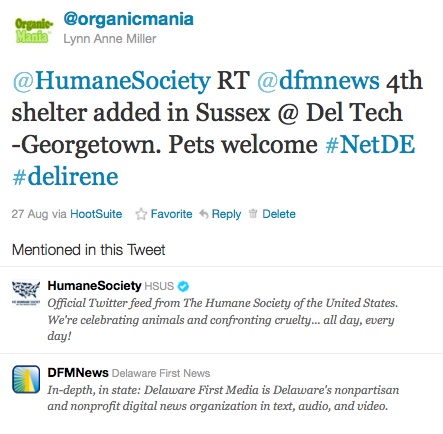 3. @HumaneSocietyUS quickly retweets, adding the #irenepets #hashtag monitored by pet owners.

4. Follow Back Generously to Enable Direct Messages

Follow back as many people as possible who follow you, so that they can send you Direct Messages - messages they may not wish to broadcast to the public. You may also wish to use DMs to avoid clogging up the public channel. They are a great way to avoid embarassing situations as well. But - you need to have the other party follow you in order to send a DM. So - follow back generously!
5. Create Groups for Easy Monitoring

After following more people to enable DMs, you may be worried about how to monitor your growing tweetstream. Simple! Establish a separate list for those tweets you need to monitor most closely during the crisis.
Example: Here's a list I created to keep track of those helping to protect my favorite beach in Rehoboth, Delaware.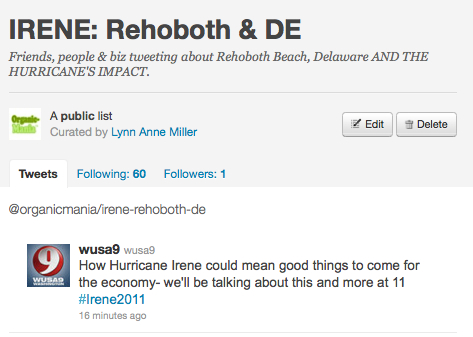 6. Be Judicious in Your Use of Hashtags
Hashtags aka # signs, are a great way to mark important content and to help it be found.
Examples: #DCIrene, #Irene, and #DELIrene
It makes sense to create segmented lists like these, as they help refine tweets to specific geographical or topical area. But creating new hashtags like #CITYNAMESTATE ? Not much help, because #CITYNAME and #STATE have pre-existing communities that will continue to use the same hashtags they used before the crisis.
Make sense? What did you learn about crisis outreach during this amazing week? Please leave a comment and share!
-- Lynn
Lynn Anne Miller is CEO of 4GreenPs, an award winning firm that connects green brands with mainstream consumers and builds sustainability communication programs for corporate leaders. Lynn is a winner of the Shorty Award, dubbed the Oscars of Twitter by CNN. She is a contributor to the forthcoming 2011 edition of the PR News Crisis Management Guidebook.