For more than five years, marketing thought leaders have pronounced the press release
dead
– or at least
on life support
. At first, the PR Establishment disagreed (and many Old Schoolers still do). But in 2008, the Securities and Exchange Commission
ruled
that "under certain circumstances" website and blog posts counted as full disclosure under Regulation FD. Soon, the announcement of acquisitions via blog post – instead of the news wire – became commonplace, at least in the tech industry.
No one was surprised then, when HubSpot yesterday announced its latest acquisition via its blog. What was surprising was the way in which Hubspot released the news. In an elegantly simple spin on the traditional press release and Web 2.0's Social Media Release, Hubspot segmented the release into a series of thirteen tweets, each one containing a #Hub140 hashtag, and a "Tweet This' link.
Take a look: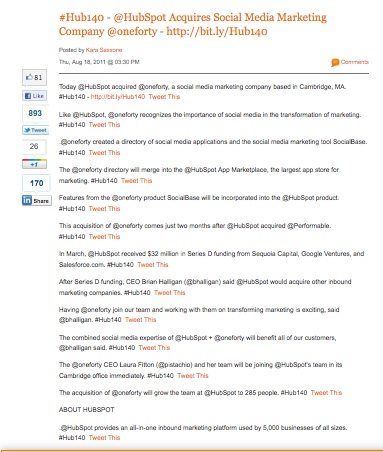 Look closely at the text. It's traditional corporate press release jargon, right down to the "About Us" section and stuffy phrases like "the combined expertise of …is exciting." Although, perhaps to keep the text under 140 characters, HubSpot skipped the quotation marks.
Yesterday I sent a quick tweet congratulating HubSpot on the acquisition of Laura Fitton's @oneforty social media marketing firm. Laura, aka @pistachio, is brilliant, and after more than four years as a leading light in the Twitterarati, she's still one of the nicest folks on Twitter. (No social media diva there). Laura and her team will strengthen the HubSpot offering, as well as its marketing.
Several folks tweeted back, asking how the release was received. Here are some stats HubSpot released today:
Bear in mind, these results are now out-of-date. The final click-throughs, tweets, blog posts and other mentions will likely more than double as news spreads (and the Really Smart People return from vacation). That's the beauty of social media, amplified by inbound marketing.
But reaction to the Twitter News Release was mixed.
The Boston Business Journal's Lisa van der Pool wrote, "HubSpot's creativity was jarring at first. At first I thought the news had broken already, because it was a live link on HubSpot's site. I was also nervous that I would accidentally tweet the embargoed information. (For the record, no one broke the embargo, said Sassone).
But it's actually a smart way to modernize the press release for the social media world. Every single nugget of information in the announcement is easily tweetable, complete with the #Hub140 hashtag. An embargo on a release like this, however, is probably too dangerous.
As for the format, I hope to see more tweet releases in my inbox in the future."
Others were not so charitable.
"As a busy journalist working for an online pubication, I found the format really irritating," wrote Walt on the HubSpot blog. "As Andrew Fingerman says, couldn't it have contained a link to a straightforward release? Most of us just don't have the time needed to unravel unnecessary gimmicks."
Reaction to the new format continues to pour in.
What do you think of the Twitter News Release? Can you see your organization following suit?
Here's what I find most interesting. It turns out Hubspot didn't skip the newswires after all. Here's a link to the full HubSpot press release, distributed via PR Newswire.
-- Lynn
Disclosure: 4GreenPs is a Value Added Reseller of Hubspot's inbound marketing automation software.