Back in March, I sat down with Jeffrey Hollender, the man who built Seventh Generation into one of the most successful sustainable brands in the world, and his hand-picked successor, new CEO Chuck Maniscalco, formerly of PepsiCo.
I was surprised by Maniscalco's pedigree: his resume is as corporate as Hollender's is renegade. But Maniscalco was also a change-maker, a guitar player, and a non-profit Board member. As someone at Seventh Generation quipped to me, "Jeffrey was prepared not to like him, but he did."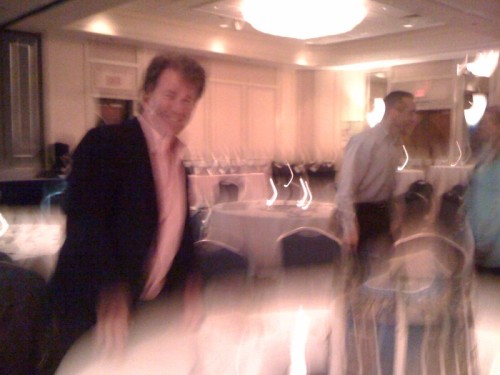 Wish I had asked them to pose! Jeffrey Hollender & Chuck Maniscalco at Expo West.
So when Diane MacEachern called me today to say that Hollender had been pushed out of Seventh Generation, I didn't believe her. "No," I responded, "that's the plan. Jeffrey's going to focus on his books, his work with American Sustainable Business Council, and his environmental advocacy and non-profits, and Chuck's going to run the company."
But unfortunately, according to numerous reports – the most authoritative by Marc Gunther – Seventh Generation's Board voted on or before October 25th to remove Hollender from the Board and to put him on leave of absence from Seventh Generation. And Hollender's bio, once prominent on the Seventh Generation site, is no longer there.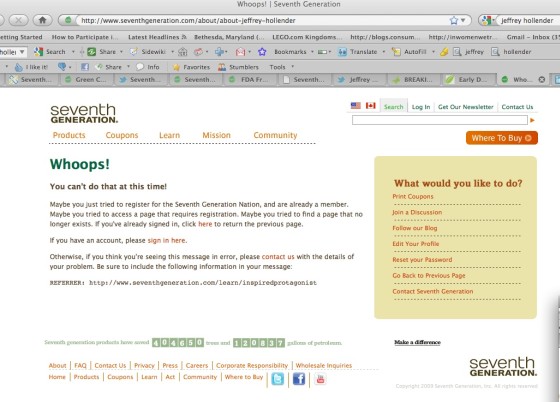 At first, I didn't know what to say or think or blog. But since both Chuck and Jeffrey spent a good deal of time encouraging me to continue my blogging – I'm forcing myself to write this, thinking its what they both would expect.
Seventh Generation has been on a tear of late. In addition to Hollender turning over the CEO reins to Maniscalco, the company had taken in $30 million of equity funding, launched its first ever nationwide TV ads (which it later had to modify based on a complaint brought by P&G), expanded its distribution through Walmart (a move that infuriated many of its deep green fans), and set its sights on growing from a $150 M company to a Billion dollar giant.
At the time we met back at ExpoWest, I attended a B Corporation reception as a guest of Seventh Generation. There I learned that Seventh Generation was intent on remaining privately held, despite its aggressive growth plans.
"How will Seventh Generation fund its growth while staying true to its founding vision?," I asked.
No one directly answered my question.
As any entrepreneur will tell you, growing a company through earnings is almost impossible. This is where outside investors come in to play. A veteran of the venture-backed start-up world, I worked at two tech start-ups where I saw the Founder pushed out of the CEO role by the Board.
It's to be expected. Mature organizations plan for the day when the Founder steps away from an operational role in the company.
What is shocking about Jeffrey Hollender's departure is its suddenness and sadly, the lack of transparency displayed by Seventh Generation (no public comment has yet been made).
Executive transitions are hard. Believe me, I just went through one with a client. How and when and even if the public should be informed – especially when a successor has not been named, or a position will remain unfilled – is tough to figure out. Lots of people get involved in these discussions. Often the very people who are most expert at public communications – the PR team and their outside counsel – are not part of the inner circle making decisions.
But with instant communication tools like blogs, forums, FaceBook pages, and twitter feeds all accepted parts of corporate communications, prompt disclosure is the model to follow.
Right now, speculation about what actually transpired at Seventh Generation is rife. Prominent CSR bloggers, like Christine Arena and Fabian Pattberg, are demanding transparency. Revered industry figures are leaving comments on blogs and sites like Care2 expressing their shock. Some on Twitter are trying to incite a phone-in campaign to Seventh Generation headquarters.

For Seventh Generation, a fiercely loved brand that has held itself up as a model of transparency, the time to speak to the media, bloggers, customers, and other members of its Seventh Generation Nation is now.
In time, I'm sure, we'll all know what happened to Jeffrey. He tells it like it is. He's the guy who said, "I wanted to call my book 'How to Un Fuck Up The World,' but "they" [the PR team] wouldn't let me."
The story right now may be confusing and hard to sort out, but best practice is to take control and lay out the facts, rather than leaving it to others to speculate.
Disclosure is, after all, to borrow from Seventh Generation's own Corporate Consciousness Report, "ethical and sustainable corporate behavior."
– Lynn
Copyright 2010 4GreenPs
4GreenPs connects green brands with mainstream consumers and helps mainstream brands go green with a full range of CSR and sustainability communications services. Want to talk about how I can help you? Contact me at lynn at 4greenps dot com.