When I attended GreenFest three years ago, it was my first close look at sustainable businesses in action. The exhibitors at GreenFest '08 – the organizers' fifth expo – tended to be small eco-entrepreneurs selling upcycled jewelry, fairtrade clothing, and organic food and personal care products.
What a difference three years makes! While there are still hundreds of small green businesses at the show, this year marked the first with major sponsorship from Fortune 500 companies – Ford Motor Company and T-Mobile, a unit of Deutsche Telekom.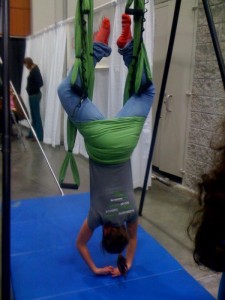 Maybewe'll look back at 2010 as the year green truly became mainstream. It was inconceivable just a few years ago that a publicly traded company would present itself credibly at GreenFest. A mecca for "deep greens," it's the kind of place where yogis hang upside down, drums beat, vegan food is de rigeur, and Greenpeace and PETA compete for most compelling booth.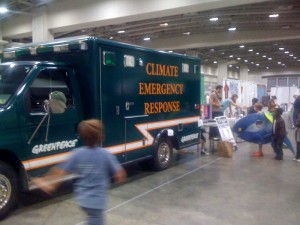 Lest you think "greenwashing," think again. Ford already has great credibility due to the significant R&D investments it made to bring America's most fuel efficient sedan and SUV to market, and the Detroit auto maker will soon roll-out electric vehicles.
But I knew something was really up when one of Green America's leadership team gushed about Ford's sustainable booth.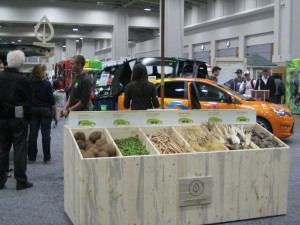 The other Fortune 500 giant, T-Mobile, made a huge and immediate impression on attendees by offering free admission with each mobile phone turned in for e-cycling. T-Mobile's offer was publicized well in advance of the expo, and hopefully generated lots of responsibly recycled phones. (I'll update the post with numbers when available). At the Chicago GreenFest, T-Mobile collected nearly 800 cell phones for recycling, and distributed more than 2,000 cell phone recycling bags. The Greenfest initiatives are part of T-Mobile's quest to recycle 1 million cell phones this year, just as its planted more than 1 million trees through its "Green Account" program.
The Fortune 500 at GreenFest. Two down, 498 to go!
[Postscript: Today Ford announced record quarterly earnings. Think you can't go green and make green? Think again.]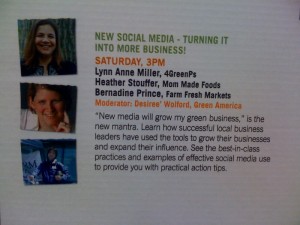 I was privileged to speak at GreenFest about Green Social Media: Turning It Into More Business! alongside my clients Heather Stouffer, founder of Mom Made Foods, and Bernie Prince, co-founder of FreshFarm Markets. Check out my presentation on SlideShare.
– Lynn
Copyright 2010 4GreenPs
4GreenPs connects green brands with mainstream consumers and helps mainstream brands go green with a full range of CSR and sustainability communications services. Want to talk about how I can help you? Contact me at lynn at 4greenps dot com.