We all knew that this was the year of mobile marketing. In September, Apple CEO Steve Jobs announced that 6.5 billion apps had been downloaded from the App Store – with more than half of those downloads coming in just the past six months.
Still, I was a little surprised to discover that one of the professional society conferences I attend, the Public Relations Society of America's (PRSA) 2010 International Conference, had its very own app developed (and sponsored by Verizon, natch).
There are nine menu items to choose from: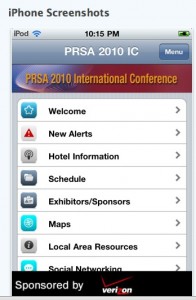 Conference Mobile Apps: What Works, What Doesn't
What Works
The Schedule section is beautiful. All the information you could want is right there: conference sessions, speakers, and even the room numbers (which of course weren't yet assigned when PRSA mailed the brochure I thumbed through earlier today).
Hotel Information includes basic, useful information on gems such as the names, locations, and operating hours of the hotels' restaurants.
Social Networking provides quick links to FaceBook and Twitter, although I would have preferred to have seen links to RSS feeds of conference hashtags – a great way to keep up on what's going on. (The official hashtag is #prsa_ic).
What Doesn't Work – Yet
I hit Alerts first, wondering if I'd find news of a cancelled keynote or parking restrictions near the conference hotel. Instead, I found this: "We are excited to bring you this technology that puts all the conference details in the palm of your hand." Conference goers surely won't be excited to read such superfluous information. No doubt, this section will improve as the conference (which just opened today in Washington, DC) gets underway. Similar to the opening "Alerts" update, the Welcome section – a separate tab – is a waste of space as well. The Maps info is useful, but hard to read on my small IPhone screen. I imagine it's great for IPad users!
Local Area Resources purports to offer info on DC Dining, Entertainment, General Resources (pharmacy, bank, etc.) and Transportation, but I found some of the tips to be unreliable. For example, American/Continental Dining includes four restaurants: Tabard Inn, Jockey Club, Sweetgreen, and Restaurant Nora. What an odd grouping! I love Sweetgreen – I even blogged about it on my personal blog – but the casual salad and sandwich spot is out of its element, grouped here with these typical DC expense account restaurants. That said, there is a lot of great info in this section, you might just want to do a cross check with a local before heading out somewhere!
The app was developed by EProMeetings. You can see a canned demo here of a standard conference app.
Pretty neat, overall, although with some room to grow. I can imagine great tie-ins for this type of an app with Foursquare promotions, for example. (Oddly, FourSquare wasn't included in the Social Networking section).
And, of course, the developers tout this app as a greener option than paper – which would have been true, had the PRSA organizers skipped the printed brochures and gone completely paperless, as BlogHer did this year.
What are your thoughts? Would you invest in an app if you were running a conference? Leave a comment and share!
– Lynn