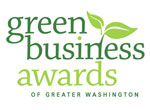 Washington's Green Business leaders gathered recently in the historic Willard Hotel to learn who had won the third annual competition to be named one of the Washington, DC region's most sustainable companies. Along with some interesting stories from the winners and finalists, which you can read here in the Washington Business Journal, came a nice surprise. Alex Orfinger, the business lournal's publisher, led a very interesting discussion with the green business awards' judges, which left me with these five memorable take-aways:
1. If you're renting space for your business, see if you can change the term of the lease to a "green lease." This means that you, as a tenant, will benefit from any energy savings the landlord nets as a results of building and tenant energy efficiency programs. Thanks to Anca Novacovici, President of DC sustainability consulting firm Eco-Coach, for this great tip. (And in case you're wondering, it's pronounced Ahn-KAH No VAH ko VITCH).
2. Do you run a commercial real estate firm or other business that requires you to chauffeur people from place to place? Consider a Segway. Diana Horvat, Partner of Envision Design, the USGBC's Firm of the Year for the National Capital Region, gave props to Costar Realty for showing potential tenants around DC via Segway.
3. Re-think the plastic bottles. Long under attack by environmental groups, retailers like MOM's Market (a green awards finalist) have stopped selling plastic water bottles. Gary Skulnik, Co-Founder and President of local green energy provider Clean Currents, made this bold prediction: "In the next year or two, all the other companies will follow their lead and stop selling them too."
4. Scott Pomeroy, Environmental Programs Manager of the Downtown DC Business Improvement District reminded the audience that UPS saved a fortune when it eliminated left turns. No more idling! Just think of the impact on our collective energy use if all commercial fleets implemented the same practice!
5. Sometimes it's the simple things that make the greatest impact. Anca told another great story about a client who removed waste baskets from offices, replacing them with recycling receptacles. To throw something away, employees had to walk to a central room where a waste bin was kept. The result? Waste reduction was enormous!
Congratulations to all 150 Washington area companies who applied for the Greater Washington Green Business Awards. That number alone is enough to show the importance of green awards: they truly do motivate companies to excel. And of course we can all learn from the examples set by the amazing finalists and winners in each of seven categories:
DESIGN: Envision Design; Honest Tea Inc.; The George Washington University; Dale City Volunteer Fire Department – WINNER
EDUCATION/OUTREACH: MOM's, Wolf Trap Foundation for the Performing Arts – WINNER
INNOVATION: J&P Lube Inc.; SunDun Office Refreshments Inc.; D.C. Central Kitchen – WINNER
INVENTION: Centennial Contractors Enterprises Inc.; Celcite Management Solutions LLC – WINNER
VISIONARY: Arbour Realty; Clean Currents LLC – WINNER; University Park Solar LLC
WORKPLACE: ripe; WSP Environment & Energy – WINNER; US General Services Administration
GREEN GIVING: John M. McMahon, Chairman, Miller & Long Co. Inc.
And thanks to the five judges who donated their time to the cause. Marc Nichols, Chairman of the Board of the Sustainable Business Network of Washington and COO of Green Advantage joined Anca Novacovici of EcoCoach, Diana Horvat of Envision Design, Scott Pomeroy of the DC Bid, and Gary Skulnik of Clean Currents to form the judging panel. Props also go out to The Washington Business Journal and The Greater Washington Board of Trade for running this important green business awards competition, and to the sponsors who support the awards, especially Washington Gas for serving as lead sponsor of the Greater Washington Green Business Awards yet again.
What's next in DC green business? This Thursday night, October 7th, Bethesda-area businesses will gather for the first annual Green Gala, co-sponsored by Bethesda Green and Bethesda Magazine. As a sponsor, I'll be there representing 4GreenPs - tweeting away and hobnobbing with all the eco-fabulous guests. Please be sure to stop by and say hello! Need a ticket? Grab yours here.
– Lynn